Spacewalk Rentals Baton Rouge
Spacewalk rentals Baton Rouge just got a little easier thanks to Ascension Party Rentals. Whether you call them spacewalks, fun jumps, or bounce houses, we have the perfect one to keep the kids at your next event entertained for hours! We have the largest selection of spacewalks in Baton Rouge, so you can rest assured that you'll find the perfect size and theme to fit your party perfectly. When it comes to party entertainment, there's nothing more fun than spacewalks in Baton Rouge!
At Ascension Party Rentals, we're your number one source for party and event rentals in Baton Rouge. We not only have a giant selection of spacewalks to choose from, but we also offer water slide rentals, inflatables, table, and chair rentals, concessions, dunking tanks, and so much more! We're your one-stop party shop and with nearly two decades of experience, we can help you with every step of the party planning process. Our number one priority is safety, so you can rest assured that we do what it takes to make sure you're getting only the highest-quality, cleanest rentals possible. You'll love our dedication to superior customer service! Browse our spacewalk rentals Baton Rouge with confidence.
The Spacewalks Baton Rouge Customers Talking About
By now, you've probably seen our giant inflatable spacewalks around town, everywhere from birthday parties and festivals to school functions and weddings, we do it all! Part of the reason why our spacewalks Baton Rouge are so popular is that we have a giant selection to choose from. We know that your party is unique, so we make sure you have the choices you need to find the right spacewalk to compliment it perfectly.
Browse All Spacewalk Rentals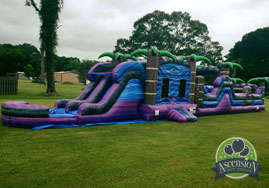 Hosting a toddler birthday party? Check out our Mickey Park Bouncer, the perfect choice for the little spacewalks Baton Rouge kids love! This brightly colored bounce house features toddlers' favorite Mickey characters and of course, plenty of room for the little jumpers to have a ball for hours. Need something to keep the older kids entertained? How about our Sports Arena Bouncer? This inflatable spacewalk has tons of jumping room, a basketball hoop, and a fun sports theme. No matter what type of party you're throwing or what age the of the kids in attendance will be, we have the perfect spacewalk rentals in Baton Rouge to put the cherry on top.
Delivering the Best Spacewalks in Baton Rouge
All our spacewalk rental Baton Rouge options are premium quality and commercial-grade, so no need to worry about the durability and integrity of our spacewalks. We meticulously check all our inflatables for rip, tears, and faults between rentals in addition to our strict cleaning and sanitizing routine. When you choose Ascension Party Rentals, you'll never have to worry about receiving grimy, dirty, or insufficient rentals, we guarantee it! As a family-run business with decades of experience, we're proud to continue to serve our local community, upholding the glowing reputation that we've diligently built over our years in business.
Ready to see what all the buzz is about and secure your spacewalks in Baton Rouge? Choosing and reserving your rentals is so easy! We have an easy online ordering system for your convenience so you can get the party started whenever you want. All you need to do is choose your event date, select the rentals you need to make your party a hit, add them to your cart, and checkout. As your party and event rentals experts in the Baton Rouge area, we'll take care of the rest!