Bounce House Rentals Gonzales and Surrounding Areas
Castle Bouncer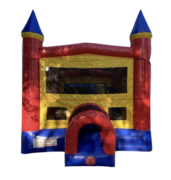 Purple and Pink Bouncer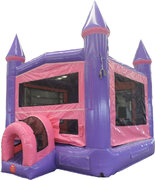 Sports Arena Bouncer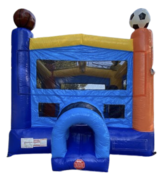 Rainbow Bouncer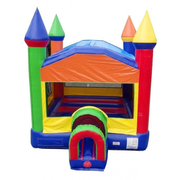 Skid Loader Combo - Dry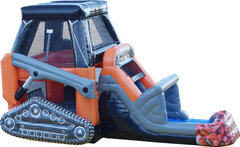 Tractor Combo - Dry
Mermaid Combo - Dry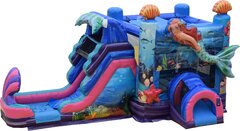 Jurassic Combo - Dry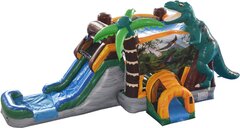 Tank Combo - Dry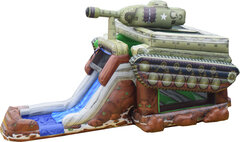 Monster-Truck Combo - Dry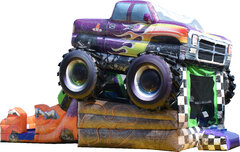 Circus Train Combo - Dry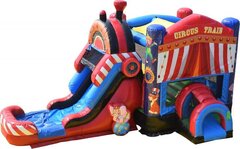 Fairytale Castle Combo - Dry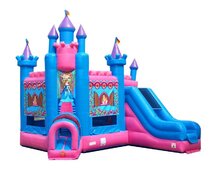 Football Bounce N Slide - Dry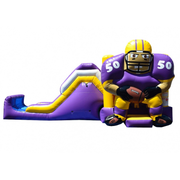 Who Dat Combo - Dry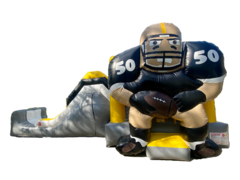 Tropical Sunrise Combo - Dry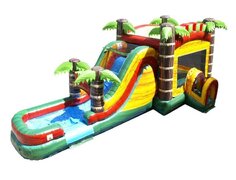 Mega Rainbow Combo - Dry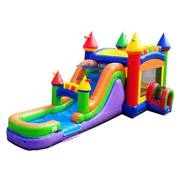 Fire Station Combo - Dry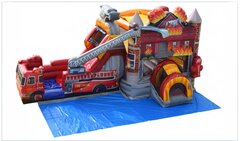 Tiger Belly Combo - Dry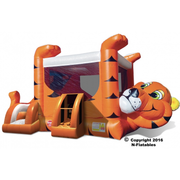 Sports Combo - Dry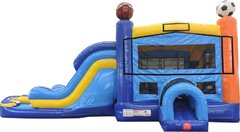 Castle Bounce N Slide - Dry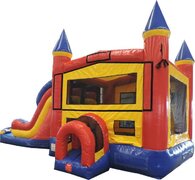 Princess Castle Combo - Dry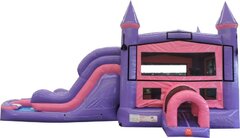 Bliss Castle Combo - Dry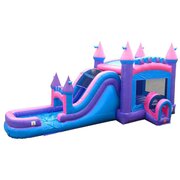 Mickey Park Learning Club - Dry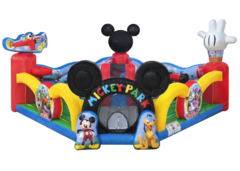 Barnyard Play Land - Dry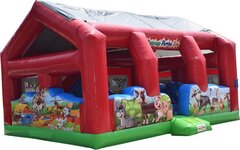 Toddler Play Land - Dry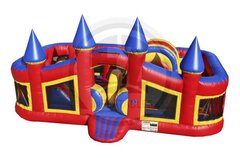 Mini Castle Combo - Dry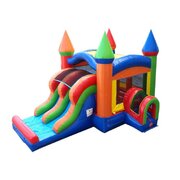 Mini Princess Combo - Dry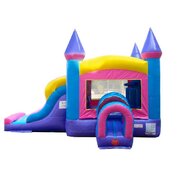 Minnie Mouse Combo - Dry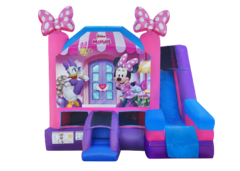 Disney Princess Combo - Dry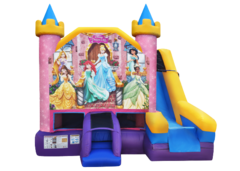 Zoo Play Land - Dry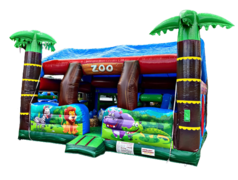 If you're looking for the best bounce house rentals Gonzales has to offer, you've met your match! Ascension Party Rentals is your go-to choice for bounce house rentals for so many reasons, from our giant selection to our dedication to providing commercial-grade, clean, and quality rentals. We're a family-run and owned business that's proud to serve our local community with the bouncing fun and excitement they crave. So, whether you call them bounce houses, fun jumps, or spacewalks, we have the perfect one for your event in
Gonzales, LA
!
The team at Ascension Party Rentals are party experts. We take pride in our nearly two decades of bounce house rental experience and love sharing our knowledge and expertise with you. Our number one priority is always safety. We make sure that you receive only the highest-quality, most meticulously cleaned bounce house rentals, every time. And don't forget, we're your full-service resource for event rentals, so be sure to check out our selection of tents, tables and chairs, inflatable water slides, and more! A great addition to our unique bounce house rentals Gonzales party-goers loves for entertainment.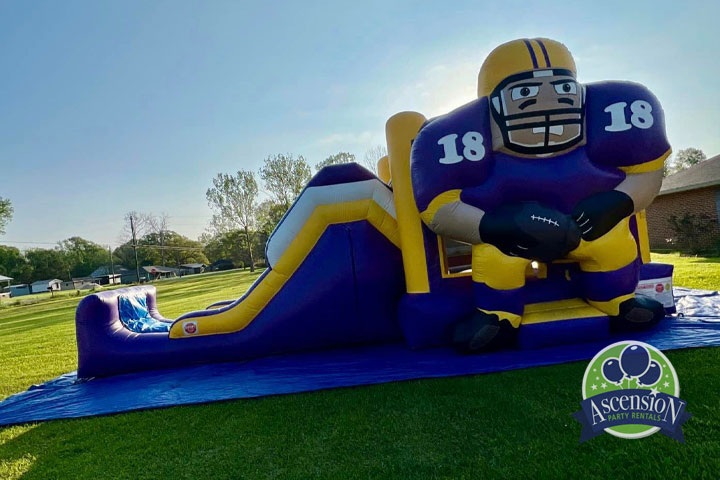 The Bounce House Gonzales Needs at Their Parties and Events
With dozens of different bounce houses to choose from, you can ensure you're getting the perfect bounce house Gonzales needs, no matter what type of event you're hosting. We love bringing the fun and excitement to parties all across the city and seeing the look of pure joy on kid's faces at the sight of a giant inflatable. There's no better way to provide good, clean fun to kids than to set them up with a premium indoor bounce house Gonzales from Ascension!
Hosting a game day party? Then you've got to check out our giant Tiger pride football bouncer! The perfect choice for a bounce house rental in Gonzales that the locals love for game days. This bounce house will show off your hometown pride and provide plenty of entertainment for the kids during the game. Throwing a party fit for a princess? She'll love our Disney Princess Bouncer. She and her friends can jump along with their favorite Disney characters all party long. No matter what type of event you're hosting or what the size of the guest list, you can rest assured that we have the bounce house Gonzales you need to make it the best party ever!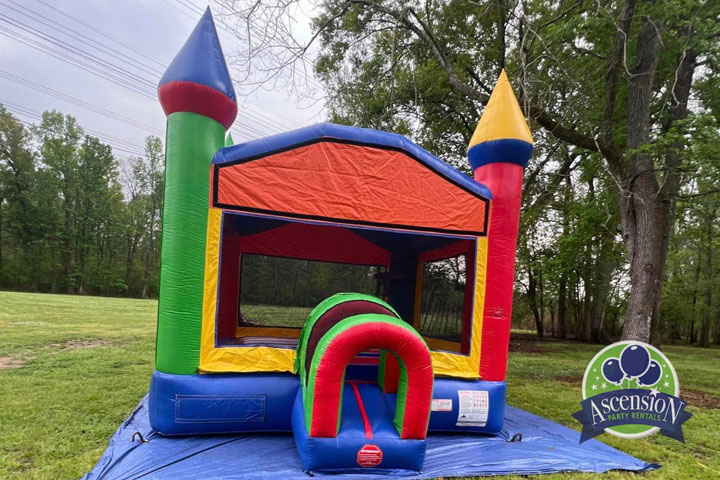 Largest Selection of Inflatable Bounce House Rentals in Gonzales, Louisiana Area
Every party and event are unique, so why choose inflatable bounce house rentals in Gonzales that don't offer a variety to choose from? We love helping our customers to create the custom event experience they want and deserve by offering a wide selection of sizes and themes, including the coolest combo bouncers in the area. They offer tons of features like slides both dry and wet with cool interactive type pop ups and a basketball goal inside the unit. Our combos can be used as a water slide too for those hot summer months. Who knew these action-packed bounce houses would be so fun?
Additionally, we also offer our expert advice! We know that party planning can be a pain, especially if you have questions or you're not sure exactly what you need. That's where we come in. We'll walk you through every step of the way. When you're ready to reserve your inflatable bounce house rental in Gonzales, you can use our easy online reservation system to get the party started. It's so simple, just select your event date, choose the inflatable bounce house rental Gonzales of your choice, add to cart, and checkout. We offer free, on-time delivery and takedown, taking the stress and guesswork out of party planning. Get in touch today to experience the kind, courteous, and professional service you deserve along with the best inflatable bounce house rentals in Gonzales!
Tips for Planning a Party with a Bounce House in Gonzales
If you're planning a party with a bounce house Gonzales, Louisiana area, here are some tips to help you:

1. Choose the right rental company: It's important to choose a reliable and reputable party rental company like Ascension Party Rentals that offers a wide range of bounce houses and other party rentals to choose from. We are a local family owned and operated company with strong ties to our community.

2. Select the appropriate bounce house: Choose a bounce house that is appropriate for the age group of the party attendees. Some companies offer bounce houses in Gonzales specifically designed for toddlers, while others have larger ones suitable for older children and even adults.

3. Determine the location: Make sure you have enough space to set up the bounce house rental. Consider the surface type and make sure it's a flat and level area free of any sharp objects or debris.

4. Check for power sources: Bounce houses require a power source, so make sure the rental company provides a generator or that there is an electrical outlet nearby.

5. Reserve in advance: Bounce houses are a popular party rental item, so make sure to reserve well in advance to ensure availability on the date of your party.

6. Consider adding other rentals: To enhance the party experience, consider adding other party rentals like inflatable slides, obstacle courses, or carnival games.

7. Safety first: Follow all safety instructions provided by the rental company and make sure to supervise the bounce house at all times to ensure the safety of the party attendees.

Remember, renting a bounce house is a great way to add some extra fun to your party, but safety should always come first. By following these tips and using a reputable rental company, you can ensure a successful and enjoyable party for everyone involved.
How to Book a Gonzales Bounce House Rental
Whenever you are ready to book your next Gonzales bounce house rental , it's so easy it should just take a few minutes of your time. Even better, you can do it right on our website or call our office to speak to our friendly event specialist, whichever is easiest or more convenient for you. After browsing our selection of bounce houses, just follow the few steps below to finalize your reservation with us. Here are a few tips:

1. Browse our selections of bounce houses and choose one you like.

2. Click the blue "Book Now" button to get started.

3. Select your event date and times, both starting and ending times.

4. Complete customer information as well as event information.

5. Finalize your reservation by paying the minimum required deposit and digitally signing our rental agreement.

Once you have completed the above steps, our interactive booking system integrated with our website will automatically send you confirmation emails and text messages, if applicable. We will also send a few follow-up messages leading up to your event to help ensure everything goes as smooth as possible with our Gonzales bounce house rental. If you have any questions or would like to add anything to your order, just give our office a call.
Delivering Fun with Inflatable Bounce House Rentals Gonzales
For years, our team has been delivering fun all over the Gonzales area. Often you will see our trucks roll around town delivering inflatable bounce house rentals Gonzales kids go crazy over. It doesn't matter if it's a kid's backyard birthday party or large event in the community because chances are you will see one of our new branded delivery vehicles at the event with our high-quality inflatables.

We are always bringing entertainment for kids to local public parks in the area. Gonzales has many parks that have amazing shelters and pavilions to host your party or event. Just be sure to check with any regulations or restrictions they have as most may require you to rent a generator to power the inflatable blower during operation as well as insurance policies in the amount they require. A few of the parks we frequent are Gonzales Municipal Park, Jambalaya Park, Kids Kove Discovery Park, and George Washington Carver Park. The Gonzales Parks and Recreation Department website has tons of information on the local parks in the area that are available. Just let us know when you are having the party at a park so we can plan accordingly.

Among the many parks we frequent, our local schools and churches love us as well! We do plenty of field days at the public and private schools in Gonzales communities. Also, our favorite college, Louisiana State University in Baton Rouge near the Mississippi River, loves using our team for many events around the campus. Rest assured, many trust us to handle their events when it comes to bounce houses and more from Ascension Party Rentals. Our younger generation sports teams use us as well! Fun to be had all the way around with our inventory.

Anywhere and everywhere in Ascension Parish we deliver to including the following zip codes for inflatable bounce house rentals Gonzales: 70737. Call our office if you don't see your area mentioned or to confirm we service your area.
Why Choose Us for Gonzales Bounce House Rentals
Often you may ask yourself when browsing around why choose us for Gonzales bounce house rentals. Therefore, when it comes to throwing a party or event in Gonzales, LA, choosing the right party rental company can make all the difference. Ascension Party Rentals is a great choice for anyone looking to rent a bounce house for their next event. Here are a few reasons why:

1. Wide Selection: Ascension Party Rentals offers a wide selection of bounce houses, water slides, moonwalks, and other party rentals. Whether you're looking for a traditional bounce house or something a bit more unique, you're sure to find it here.

2. Quality Bounce House Rentals: Ascension Party Rentals prides itself on providing commercial-grade, clean, and quality rentals. You can rest assured that the bounce house you rent will be safe and enjoyable for everyone at your event.

3. Great Customer Reviews: Ascension Party Rentals has a strong reputation in the Gonzales community, with many positive reviews from satisfied customers. Their commitment to customer service and satisfaction is evident in the feedback they receive.

4. One-Stop Shop: In addition to Gonzales bounce house rentals, Ascension Party Rentals offers a wide range of party rentals, including tables and chairs, tents, and concessions. This makes them a convenient one-stop shop for all of your party rental needs.

Overall, if you're looking to rent a bounce house in Gonzales, LA, Ascension Party Rentals is a great choice. With their wide selection, quality rentals, great reviews, and one-stop shop convenience, you can't go wrong.
Frequently Asked Questions on Bounce Houses Gonzales Kids Love
Over the years, we have compiled some of the frequently asked questions from our customers when they were looking at renting bounce houses Gonzales kids love for a party. Here a few to help you along the way with planning your event but call us if you have any additional concerns or questions.

1. What is a bounce house, and how does it work? A bounce house is an inflatable structure that is designed to be jumped on and bounced around in. It works by inflating the structure with air and then allowing people to jump around inside of it.

2. What are the age and weight limits for using a bounce house? Age and weight limits vary depending on the specific bounce house. However, most bounce houses are designed for children between the ages of 3-12 and have a weight limit of around 150-200 pounds per person. Most units have an overall capacity of 1000-1200 lbs.

3. How much does it cost to rent a bounce house in Gonzales? The cost of renting a bounce house in Gonzales varies depending on factors such as the size and type of bounce house, duration of rental, and delivery fees. Prices typically range from $150 to $275 per day with FREE overnight. Add an additional day for only 20% more!

4. How long can I rent a bounce house for? Our typical pricing shown is for one day including free overnight, but we can add additional time as well, like the entire weekend. For longer rental periods, please consult with our office.

5. Is it safe to rent a bounce house? Yes, as long as you follow the safety guidelines provided by our delivery crews and the ones posted on the inflatable itself. These guidelines typically include rules such as not exceeding the maximum weight limit, not allowing children to climb on the walls, and not using the bounce house during inclement weather.

6. Do I need to provide my own power source for the bounce house? Yes, customers must provide their own power source for the blower to operate the entire time during operation. If a minimum of a 15 amp, typical 110/120 volt household outlet is required but a 20 amp is preferred. The outlet must be protected by a GFCI circuit breaker or outlet. If adequate power is not available, you must provide or rent a portable generator from us.

7. Can I set up a bounce house in a public park in Gonzales? Rules and regulations vary by park, so it is important to check with the park authorities before setting up a bounce house. Some parks require a permit, while others do not allow bounce houses at all.

8. How far in advance should I book a bounce house rental? It is recommended to book a bounce house rental as early as possible to ensure availability, especially during peak party seasons. Booking at least 2-3 weeks in advance is usually a safe bet. Click the Order by Date button to see what is available for your party date for faster results!
5 Star Reviews from Customers who Rented Bounce Houses in Gonzales LA
See why so many trust our company for a bounce house because there are literally thousands of happy customers since we started many years ago. A few of the loyal happy customers are below but you can see all of our reviews on Google, Facebook, and even Yelp. So many local parents, schools, churches, businesses, and organizations in the community love our company. There is a reason why we are the top rated bounce house rental company in all of Gonzales for so long. Trust us for your event like the rest!

This was by far the easiest process. They delivered on time and picked up on time. The delivery guys were super nice and extremely helpful ! I will definitely be using ascension party rentals in the future !!! -Nina Cuti

This is the first time my husband and I have patronized Ascension Party Rentals, and the service was completely professional from start to finish. I highly recommend your company to anyone looking for quality assistance with their event needs. –Michelle Francis

Always professional on the phone and with their delivery. I've ordered a few times with them for personal and commercial events and they are always a pleasure to work with!. –Ariel Davis
Learn More on the History of Gonzales and Our Community
Gonzales, Louisiana is a small city located in Ascension Parish. The area was inhabited early on by Spanish and French descendants, who lived alongside the Houma Indians. In 1887, Joseph "Tee Joe" Gonzales opened a general store and post office in the area, which eventually became known as Gonzales.

The village of Gonzales was laid out and subdivided in 1906. It was officially incorporated as a village in 1922, with Joseph Gonzales elected as the first mayor. The village continued to grow, with transportation improved by the construction of Airline Highway. In 1952, Governor Earl K. Long proclaimed Gonzales as a town during his term.

Today, one of the appealing aspects of Louisiana as a visitor destination is its deep and colorful history, and Gonzales is no exception. The city has a rich heritage that includes early exploration and settlement by European explorers. Visitors can learn more about this history at local museums and historical sites, including the Tanger Outlet Mall and the Pelican Point Golf and Country Club.

In conclusion, the history of Gonzales, Louisiana is a fascinating one that dates back to early settlement by Spanish and French descendants and the Houma Indians. Today, visitors can explore this history at local museums and historical sites, and learn more about the city's evolution from a small village to a thriving town.